St Barts
Many scenes from the popular BBC TV series Sherlock have been filmed across London. Benedict Cumberbatch and Martin Freeman star in this incarnation of Arthur Conan Doyle's tales, set in the present day.
St Bartholomew's Hospital is used as a setting in several of the fifteen episodes in the series, and exterior scenes were filmed on location there.
The hospital is Watson's alma mater, and is the location of Holmes and Watson's first meeting both in the book and on the TV show. It is also the filming location of the dramatic conclusion to series two.
Location
St Barts Hospital is located in West Smithfield, and has occupied the same site since it was founded in the year 1123. The hospital survived both the Great Fire of London and the Blitz.
Journey
I travelled on the underground to St Paul's station and walked to the hospital in under 10 minutes.
Coming out of St Paul's station, head left along Newgate Street, and then turn right into Giltspur Street. The famous wall featuring the name of the hospital will be ahead of you on the right.
If you're trying to find the best way to get there, the hospital has detailed information on alternative transport options on their website.
There is a row of seats along the side of the building near a recognisable red phone box. I sat there for a while to absorb the surroundings, just feet from where the impact occurred at the end of season two.
For those who puzzled over the mystery, being at the location and seeing the arrangement of the buildings was enlightening!
Nearby places of interest
Poirot's Whitehaven Mansion (Florin Court)
Smithfield market
Museum of London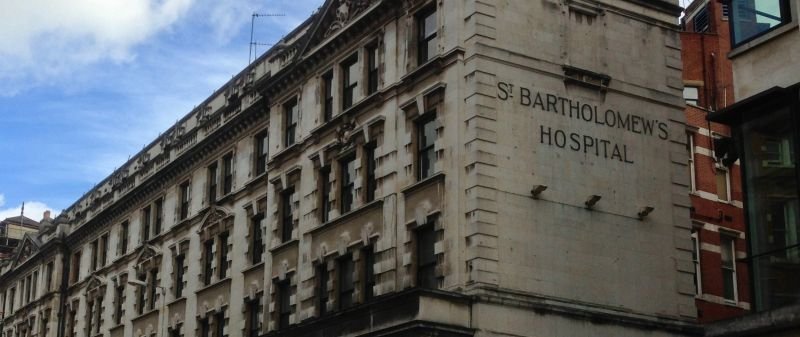 This slideshow requires JavaScript.